Positioning ourselves as a global force
12 months on from our acquisition by US investment firm Battery Ventures, we were proud to showcase our position as the innovation leader in textile testing solutions at ITMA 2015. As 2015 draws to a close, we are reflecting on an outstanding financial year 12 months on from our acquisition by US investment firm Battery Ventures, and the success we saw at ITMA 2015 exhibition in Milan, Italy.
The ITMA (International Textile Machinery Association) exhibition, widely recognised as the World's most established and respected textile and garment technology exhibition, proved to be the perfect platform to showcase our broad range of high quality and innovative Testing Instruments and complementary Test Materials and Services. Visitors from more than 66 countries were welcomed to the stand by a team of James Heal experts and our global partners and left highly impressed with our commitment to design, user intuitive functionality and product quality.
Adopting a unique approach, our stand took the form of a working laboratory to demonstrate the products in their natural environment. In addition, our testing experts conducted a number of highly popular demonstrations and training sessions at the stand over the course of the exhibition.
Image

Products showcased included established industry instruments of choice such as Martindale, Titan, TruFade Elmatear and TruBurst, as well as the latest in cutting-edge instruments added to the portfolio. These included ProMace, a mace snag tester used to determine the snag resistance of fabrics and widely acknowledged as the safest, most efficient and accurate instrument of its type; ProView, the efficient, user-friendly universal assessment viewer with pre-loaded images and touchscreen capability for multiple test methods; and FlexiFrame, a stretch and recovery instrument that offers flexible and accurate static extension testing for standards, where the use of a tensile tester would be prohibitive due to time. The instrument meets a range of standards, including those from ASTM, Arcadia and Ralph Lauren.
"ITMA has traditionally been a very important event in the James Heal calendar but this year exceeded all expectations", said Andrew Hemingway, Commercial Director.  "2015 has been a fantastic year for the company and this was reflected in the number of visitors to the stand. Having the opportunity to meet so many people, and feel their emotional connection with the James Heal brand, was a fantastic experience for the team.

The opportunities to develop our business across the globe are vast and demand for our products and services has never been higher."
Image

The ITMA exhibition also coincided with the conclusion of our first full financial year since being acquired in September 2014 by US-based investment firm Battery Ventures. In addition to posting sales growth of more than 10% and expanding our global outreach to more than 70 countries, we have been able to invest significantly in the infrastructure and systems which will set us up to achieve the impressive growth targets put in place between now and 2020. Furthermore, these investments will help underpin our mission to provide and support the most desirable, intuitive and reliable materials testing solutions in the world.
Amanda McLaren, Managing Director, states: "The partnership with Battery Ventures enables us to take the Company to the next level, making key strategic investments that will help drive forward our philosophy of continuous improvement. Battery Ventures has been delighted with our progress in the first 12 months of ownership and our employees and sales channel partners across the globe deserve a huge amount of credit for their efforts and dedication. We remain wholly committed to providing innovative, high quality materials testing solutions in our core market. In parallel, we are also extremely excited about the business potential that we have identified through our diversification strategies".
Company
Image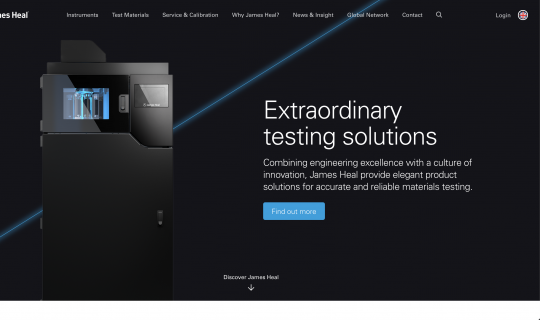 James Heal are the leading brand for materials testing equipment in the textiles industry, with a wide range of extraordinary materials testing solutions.